After the great success of our first edition of FAR OFF in 2016 we are more than happy to announce FAR OFF 2017, from April 27 – 30.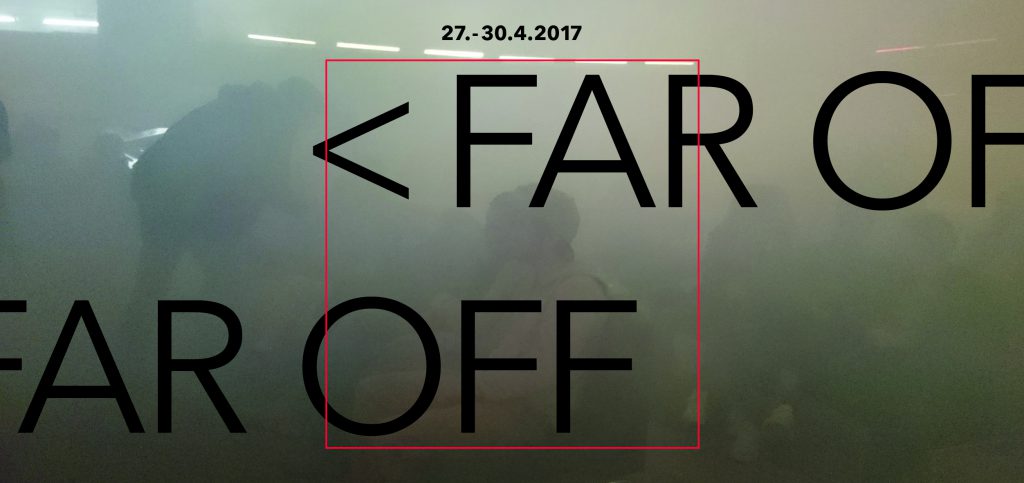 < FAR OFF is the young art fair for Contemporary Fine Art, Installation, Time-Based Media, Performance and Sound Art in Cologne. It´s also the meeting point for artists, curators, collectors and an interested audience. < FAR OFF presents around 20 galleries and project spaces, and an extensive frame programme with a black box, a white cube, a stage. The event takes place at a great location in Marienstrasse, Köln Ehrenfeld. We are focused on showing inspiring artists, together with the participating galleries and art spaces. < FAR OFF 2017 is realized and curated by Maria Wildeis, Jonathan Haehn & Alisa Berger. The contributers to this year´s artistic programme are: < FAR OFF, the participating art spaces, Ancient Future and Baumusik.
A project by Jonathan Haehn & Maria Wildeis.
[expand title="more" swaptitle="less"]
FAR OFF 2017 Messe für Gegenwartskunst
Thursday, 27th April – Sunday, 30th April, 2017
Entrance via Venloer Str. / Ecke Leyendecker Str.
Parkplatzauffahrt Venloer Str. 476
U-Bahn/Metro: Leyendecker Straße (Linie 3,4)
Open / Öffnungszeiten:
Do, 27.4.     16-20 Uhr Private View
20-23 Uhr Eröffnung
Fr, 28.4.     16-23 Uhr
Sa, 29.4.     16-23 Uhr
So, 30.4.     15-20 Uhr
Galleries ∙ Art Projects
Köln < Brunnen e. V. {GOLD + BETON, Bruch & Dallas, Tiefgarage} ∙ Love Pro Toto ∙  HONDA Gallery ∙ Werft 5 ∙  DD55 Gallery ∙ 2W0: Ademmer | Büchel ∙ artrmx ∙ C.I.A. ∙ POA POA association ∙ Berlin < HilbertRaum  ∙  Düsseldorf < LAGER3 ∙  1 Koffer Kunst ∙ Bonn < Galerie Judith Andreae ∙ youngcollectors ∙  S.Y.l.A:NTENHEIM / Kunstversorgungsquartier ∙ DAS ESSZIMMER space for art+ ∙ WIEN < artiststatement ∙  Brüssel & Hoensbroek < GREYLIGHT PROJECTS
Black Box: Video Art ∙ Experimental Film
Kunsthochschule für Medien Köln & Kunstakademie Düsseldorf ∙ GEGENkino Leipzig: Vaginale plus X ∙ CAPRI BY NIGHT ∙ #thailife: Video Art from Bangkok & Chiang Mai ∙ SIGHTFENSTER ∙ uvm
White Cube: Installation
Philippe Cavaleri ∙ Felix Contzen ∙ David Hahlbrock ∙ René Hüls ∙ Claudia Mann ∙ Sebastian Thewes ∙ uvm
Audiovisual Performance ∙ Atmospheric Noise
Heidi Hörsturz  ∙  R|B  ∙  Jan Goldfuß  ∙  Axel Pulgar / Rihards Vitols  ∙  Ojoboca  ∙  Sonae & Nazgol Emami
Performance ∙ Sound Art ∙ Experimental Music
Paradoxana: Ketonge, Fabian Jung, Constantin Herzog, Oxana Omelchuk  ∙  liberty snake (baumusik) ∙  Pappen im Nebel (baumusik)  ∙  Tintin Patrone  ∙  Die Formation Doppelherz (artrmx)  ∙  Die Saugnäpfel ∙  Leonhard Huhn & Christian Lorenzen ∙ The Feedback Gents  ∙  Julia König  ∙  Philippe Cavaleri  ∙   uvm
Ambient & Drone
Diana Jones (baumusik)  ∙  DJ Brom  ∙  ML (comeme)  ∙  Jens-Uwe Beyer
Ancient Future  ∙  Ally Dhikr + his brother from another mother  ∙  Nafri Duo ∙ Ulrich Steinbach
[/expand]