A group exhibition with Oliver Blumek, Andreas Gehlen, Gereon Krebber, Katharina Maderthaner, Claudia Mann, Lars Rosenbohm, Susanne Themlitz und Katharina Wackermann.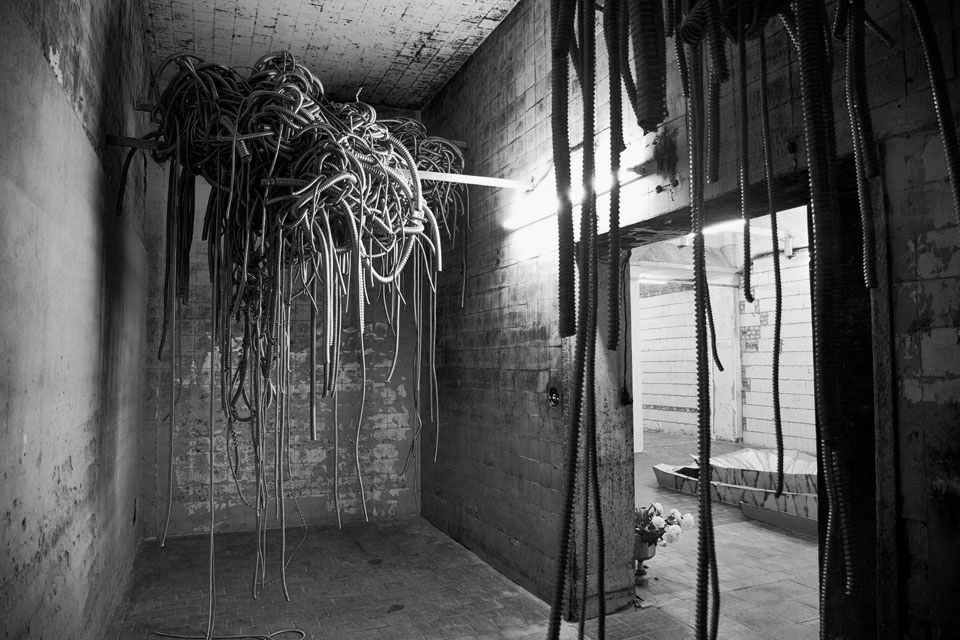 June 1 – 29, 2012. At WELTKUNSTZIMMER Düsseldorf. Curated together with Wolfgang Schäfer.
DYSSOMNIA – Spatial Interventions (latin "dyssomina": "sleeping disorder") is the result of a deep investigation of the space – a former baking factory, which is in urgent need of restoration. On two floors, attached to the event halls of the foundation, the artists provide access on over 500 sqm to old storage rooms, cooling chambers and a black painted, old rocker bar. The spacial appearance with its dirty, dark and historically charged architecture is both, fascinating and a challenge for a sculptural examination. These installations whithin the exhibition space are opening up a new sight on WELTKUNSTZIMMER.
In this project recognized artists and students of the academy of Fine Arts Düsseldorf are working together and react associatively on these raw, unrenovated rooms which were not yet used in the context of contemporary art. Especially the artists selection of material and the temporary limit within the works live make this an exciting project in current arts practice.
Friday, 1 June, 8 p.m.: OPENING RECEPTION with an artists tour through the exhibition
Friday, 29 June, 8 p.m.: FINISSAGE with Performance von Oliver Blumek
This event took place at the former storage rooms of HPZ.