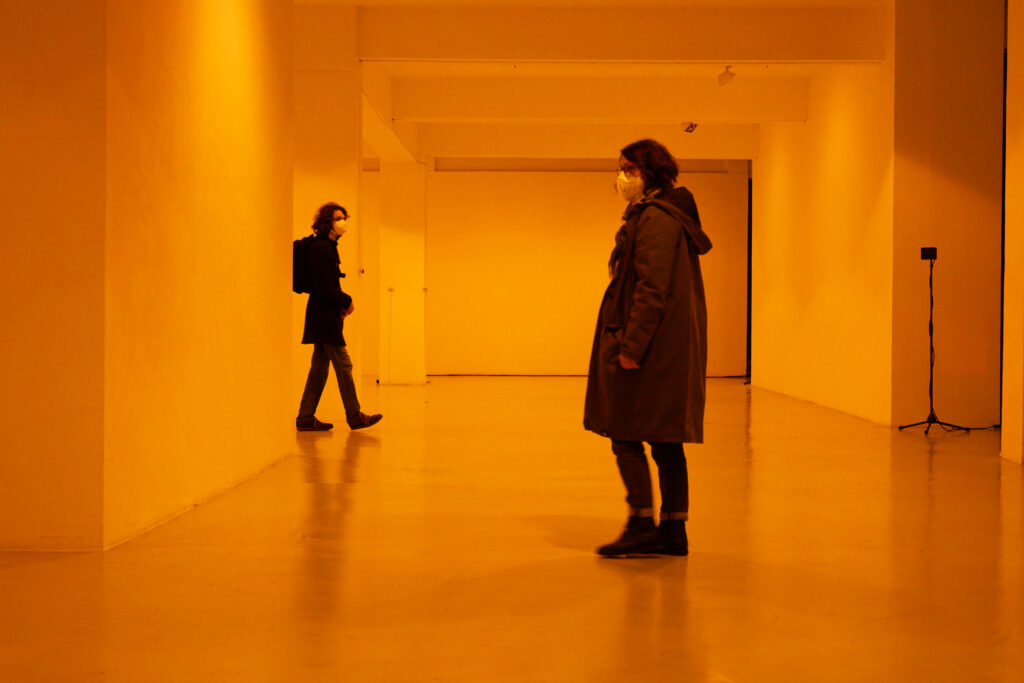 Andere Teilchen oder äußere Einflüsse
Interactive Sound Walk,
with Joseph Baader and Vincent Stange
2. Dezember 2021 | 19 – 21Uhr [Vernissage]
3. – 5. Dezember 2021
Zu Gast im NKR – Neuer Kunstraum
Himmelgeister Straße 107, Düsseldorf
Funded by Kunststiftung NRW and Kulturamt Düsseldorf.
"Andere Teilchen oder äußere Einflüsse" turns the exhibition hall of NKR into an active resonating body. The sound installation consists of two different systems, each playing different frequency bands (31-125 hz and 300-20,000 hz).
This creates a common sound space in which the sound spreads out and where the existing particles influence each other: The audience moves the sound and the sound moves the audience. The question of influence is negotiated in various ways. The physical phenomenon of the standing wave creates an acoustic walk-in sculpture in the work by Vincent Stange and Joseph Baader. Depending on the position in the room, different vibrations and chords can be heard. At the same time, these movement patterns are recorded by ultrasound sensors in the Max MSP-based installation by Maria Wildeis. The paths of the visitors affect the sounds of the high frequency spectrum at certain points.
Following presentation at Museum Kunstpalast at the end of January during Sparda's Palastrauschen.
weitere Öffnungszeiten siehe
www.nkr-duesseldorf.de
https://www.nkr-duesseldorf.de/de/1637701222