Polyphonie für träumende Robben I – V
A Performance by Alisa Berger and Maria Wildeis
Alisa Berger and Maria Wildeis embark on a 360° musical expedition dedicated to the dreams of all nautical dogs.
Inspired by the seductive and synthetic-sounding noises of sleeping Weddell seals, archive recordings from Greenland, Iceland and the Arctic served as the starting point for this sound journey, which the artists transformed throughout using voice, instruments and computer software.
To further deepen the artistic research journey, they travelled to the seal centre Föhr thanks to the help of ON – Neue Musik Köln e.V. and the concert series for experimental electronics Polymer. On the island in the Wadden Sea, various compositions were created at five locations, which reflect the seals' habitat in their aesthetics.
Funded by ON Neue Musik: https://www.youtube.com/user/oncologne2008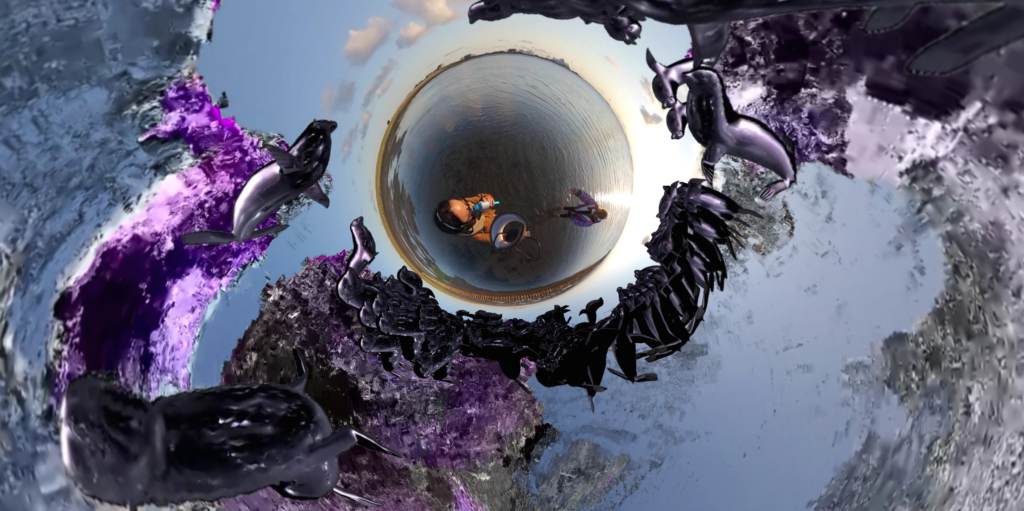 Recorded at Föhr Island at 03. und 04. August 2021 during low tide.
3D Modulation / Unity Maria Wildeis
Sound Editing Maria Wildeis
Sound Mastering Maria Wildeis
Datamoshing Alisa Berger
Video Editing Alisa Berger 
Color Correction Alisa Berger
Instruments
Voice, Xylophone, Monotron, DAW, 
Glowing Microphone,
Casio Keyboard,
Hydrophone (ASF-1+2 MKII), 
Stylophone, Daisy Duck Radio, Bluetooth UE Boom,
Small Bells, Watt
WORKS I – V
I –  Songs for Seals, STEG, 03.08.2021, 4pm during low tide
II –  Songs for Seals, WATT, 03.08.2021, 9pm during the end of low tide
III –  Songs for Seals, SCHIFF, 03.08.2021, 6pm during low tide
IV (a) – Songs for Seals, WINDRAD, 04.08.2021, 2pm
IV (b) – Songs for Seals, WINDRAD (Bonus Track), 04.08.2021, 2.30pm
V –  Songs for Seals, WIESE, 03.08.2021, 3.30pm during low tide
I –  Songs for Seals, STEG, 03.08.2021, 4pm during low tide
II –  Songs for Seals, WATT, 03.08.2021, 9pm during the end of low tide
III –  Songs for Seals, SCHIFF, 03.08.2021, 6pm during low tide
IV (a) – Songs for Seals, WINDRAD, 04.08.2021, 2pm
IV (b) – Songs for Seals, WINDRAD (Bonus Track), 04.08.2021, 2.30pm
V – Songs for Seals, WIESE, 03.08.2021, 3.30pm during low tide